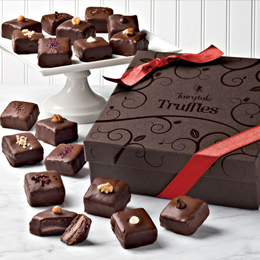 I came across this
blog
on the Huffington Post today that is a list of the "5 Best Sendable Valentine's Day Treats," and I couldn't help but notice that both brownies and cookies made the list. The author recommends baking one's own delicious treats for a brownie or cookie delivery that the sender has labored over him or herself, but time is growing short for baking, packing and shipping brownies from your own kitchen in time for Valentine's Day.
Fear not. Fairytale Brownies is here with
mail order brownies
for your chocolate-loving sweetheart and
cookies delivered
to those whose sweet tooth is of a slightly less chocoholic nature. :) And for those who really can't get enough chocolate in their lives, a decadent gift of
18-Piece Valentine Truffles
chocolate-covered mini brownies is the perfect Valentine.