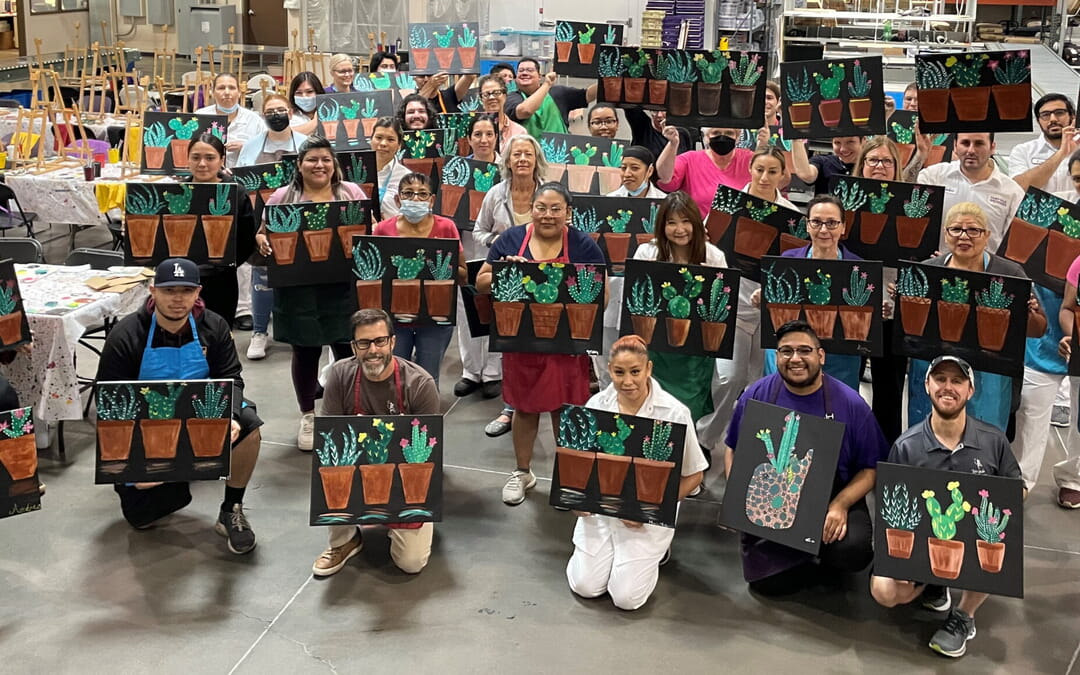 Employee engagement is more than just frivolous fun. It's about recognizing your team and valuing them as people! When you treat your employees right, they'll return the favor with creativity, inspired ideas, and higher quality work.
We're people, not machines. Humans can't churn out nonstop work for 8+ hours a day. We work to live–not the other way around! Overworking employees leads to burnout and mental checkouts, which only hurts a company in the long run. When an individual is mentally checked out, it's only a matter of time before they leave for somewhere new. And turnover is expensive–not just in money, but also in the time it takes to train their replacement. 
The truth is, employee engagement activities for the office can boost employee morale and make your team more excited and motivated at work. Breaks for fun give us a chance to rest, recover, and be more productive when we return to our tasks.
Here are a few entertaining, inspiring, and exciting employee engagement activities and ideas you can establish in your office.
1. Prioritize Onboarding
Engaging your employees begins on day one. From the moment a new employee walks through the door, they should feel like part of the team!
Dedicate some time and effort to making new employees feel comfortable and welcome starting on their first day. Make sure they have everything they need to succeed. 
Ideas for their first day:
Give them a tour

Make introductions to everyone else on the team

Show them where to find instructions and documentation

Prepare a welcome package of company-branded SWAG (coffee mugs, pens, notebooks,

treats

)

Set them up with a mentor if necessary
2. Establish Recognition Programs
Your team works hard every day. They deserve to be celebrated!
Anniversary programs and office birthday parties are easy employee engagement activities that aren't too hard on the budget. Recognizing work anniversaries is an excellent way to reward employee loyalty, and birthday celebrations show employees that you care about them as people.
Monthly recognition programs can be as simple as cards and small gifts. A few gift ideas include birthday brownies, a gift card, or movie tickets.
At Fairytale Brownies, we have recurring birthday gifting programs and anniversary gifting programs that make it incredibly easy to manage the logistics. Just send us a list of names and dates, and we'll take care of the rest. No need to remember dates or deal with the hassle of purchasing one-off gifts!
You can celebrate your team during company milestones, too. Recognize everyone's hard work after an impressive sales milestone or product launch with a party or outing for the entire company.
3. Check in Regularly
On a similar note, don't forget to recognize your employees' everyday efforts, too. 
Holding regular 1-on-1 meetings is the perfect time to connect with employees, listen to their anxieties, and offer encouraging feedback. Ask how they're doing and if there are any exciting life events they want to share.
Keep these meetings informal, relaxed, and focused on them. This is not a time to go through a checklist of everything on their to-do list unless your employee specifically asks for task-related help or clarification. Think of it as an emotional check-in to ensure your team members have everything they need to be their best selves.
4. Make Time for Fun
We're here to do a job, but who's to say we can't have a little fun, too?
During company events, play board games, party games, card games, or trivia competitions. At Fairytale Brownies, we've done casino night with various entertaining games of luck and skill. 
If you're hosting your company event externally, try a venue with bowling, mini golf, laser tag, an arcade, or even karaoke! Playing, cooperating, and competing with our team members is a powerful way to build employee engagement.
Remote teams can play an online drawing game such as skribbl.io to connect with the team, laugh, and bond the difficulty of drawing with a mouse. Slack also offers some free game extensions, such as Wordsgame.
5. Start a Book Club
Any readers on the team? Organize and host a monthly book club! 
Book clubs are engaging on multiple levels. Not only do employees engage with their team members during the discussion, but they also engage with the book itself. This can spark new ideas and keep employees mentally fit as they share their perspectives and discuss or debate ideas with the team. 
As for book topics, feel free to mix them up. Non-fiction or industry-related books can be great for career development, but don't be afraid to enjoy entertaining fiction books, too.
6. Create "Fun" Chat Channels 
Most modern IM systems let you create different chat channels to organize your discussions. But don't limit yourself to only work-related conversations!
Create a fun, non-work chat. Employees can share photos of pets or what they cooked for lunch. Your employees are people, after all. Showing that you're interested and care about employees' lives outside of work is a genuine, heartfelt way to improve employee engagement in the office.
7. Throw Competitions
Competitions are an energizing employee engagement activity that can get everyone's competitive spirit going. 
You can also hold a trivia contest, invite employees to caption a photo, dress up in a Halloween costume competition, or compete for the best-decorated cubicle. It can be as simple as filling a jar with candies and asking employees to guess how many are inside. The possibilities are endless!
At Fairytale Brownies, we've held competitions for decorating ornaments, frosting brownies, and more. 
Just don't forget the most important part: the prize! A box of Belgian chocolate brownies is enough to inspire everyone to do their best.
8. Change the World Together
A common cause can bring people together like nothing else. Knowing that you and your team are making the world a sweeter place is a powerful way to bond and keep employees engaged!
Schedule a fundraising event or volunteer together. No matter where you live, plenty of nonprofits are always looking for help. 
At Fairytale Brownies, we love to volunteer with our friends at KABOOM! During a KABOOM playground build, volunteers work together to build an entire playground in a single day! With teamwork, anything is possible. 
We've sponsored two KABOOM playground builds in the past. In Spring 2023, we're going to sponsor our 3rd playground build in honor of our 30th anniversary! Want to help? When you donate to KABOOM at checkout, we match every dollar.
Go Beyond Employee Engagement Activities
Employee happiness and engagement are goals worth striving for! Set up a budget or put together an employee-run social committee to organize your planned events.
That said, fun by itself isn't enough to foster a caring, healthy work culture. In order to truly keep your employees motivated and excited to do their best, make sure to pair these employee engagement activities with competitive pay, PTO, and benefits.
When you prioritize your team as people over workers, they'll return the favor. Happy employees make a happy company!
Treats to Treat the Team
Recognize employee milestones, supply the break room with snacks, or reward brownie prizes for office competitions. No matter the reason, gourmet, individually-wrapped brownies make the perfect gift!