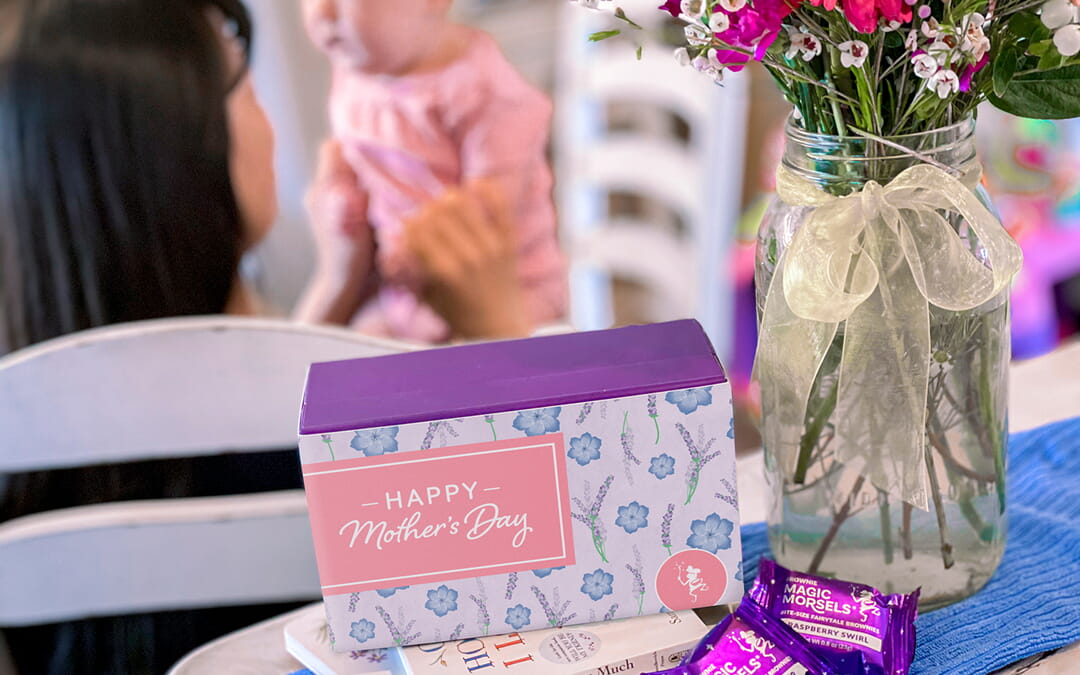 Thinking about sending a food gift to the moms in your life for Mother's Day but are concerned that they might not appreciate it? Think again. Food is universal. Everyone eats. And Fairytale Brownies? Well, we bake brownies, blondies, and cookies in enough flavors and sizes to please moms at every stage in life. Here's a handy Mother's Day gift guide to help you find the perfect gift for every mom on your list at every every stage in motherhood.
Gifts For Expectant and New Moms
Chances are she's experienced the baby shower and is equipped with all the accessories she could ever need to care for her baby. Now it's time for some self-care. Draw her a warm bath, give her a pot of herbal tea, and leave her alone with her own box of Fairytale treats.
Gifts For Moms of Preschoolers
There is no "off" button or downtime during this stage of motherhood. Mom can't fall asleep unless the children do, or else she might wake up to some "fun" surprises. But these moms are okay with this stage in life. From rereading their favorite book 50 times, to visiting the big "kitty" at the zoo every weekend, to countless playdates, these moms are focused on the little learners in their lives.
Although any size Mother's Day gift will do for these moms, we suggest a combination gift like the Mother's Day Sampler which includes a little bit of everything we bake: three sizes of brownies, soft and chewy cookies, and buttery blondies. If she prefers smaller portions, but still a variety, the Mother's Day Morsel Combo 24 is for her. The gift includes a dozen bite-size brownies and a dozen bite-size blondies. Because they're small and individually wrapped, they fit perfectly in a purse or backpack, ready to go wherever moms go.
Gifts For Moms of School-aged Kids
She. Is. Busy! Ballet, soccer, gymnastics, baseball, karate, chess. Sometimes these moms feel like they LIVE in their vehicles. Give this mom a large box of treats with blondies, snack-size brownies, and cookies, so she can enjoy her own favorites, and if she feels generous, she can share a few with her passengers while on the go.
Gifts For Moms of High Schoolers
Some observers consider them "saints." The moms themselves feel they've gone insane. Between hormones raging, dating, learning to drive, and prepping for college, these parents not only desperately need chocolate, they deserve chocolate. Give them full-size brownies or snack-size Sprites. Magic Morsels won't do unless you're sending them a Giant Box.
Gifts For Empty Nest Moms
After the initial shock of having too much quiet time on their hands, empty nest moms rediscover themselves and maybe even acquire a hobby or two. Some empty nesters become grandmas at this stage and enjoy the perks of spoiling that couldn't possibly be done as a parent. 😊
But the empty nester does miss seeing her little ones. Send her a sentimental photo gift – Upload her favorite picture from your childhood and we'll deliver it on a box of brownies. Or send a combination of blondies and brownies. She can freeze some for when you visit and share all of your adventures with her.
Gifts For Moms With Special Diets
Although not a stage of motherhood, some moms have special dietary needs. Some moms are allergic to nuts. Others just don't like them. We offer prepackaged No-Nut options as well as the option to choose favorite flavors in any of our gifts.
For those moms who prefer sugar-free, we bake Magic Morsels in two sugar-free brownie flavors: Original and Walnut. Any of our Morsel gifts can be purchased with sugar-free brownies.
Send Some Love
She loves you unconditionally. Why not indulge Mom with brownies, cookies, and blondies baked from scratch with all-natural ingredients and plenty of love?