One of the most rewarding parts of Fairytale Brownies is getting to collaborate with businesses across the country to make fully customized corporate gifts. Professionals come to us in need of a professional yet personal gift that they can give to their clients, colleagues, and co-workers that is impressive and fun. And we're always on board for making the office a bit more fun.
These are thoughtful people who don't want to have to send another mug or lunch bag. They want to give a gift that makes an impression, filled with something the recipient would actually want. As we're sure you know, it's impossible not to want luxuriously decadent Belgian chocolate brownies!
If you're looking for ways to become this year's holiday hero, we put together a few reasons why a custom holiday business gift filled to the brim with brownies is the best gift ever.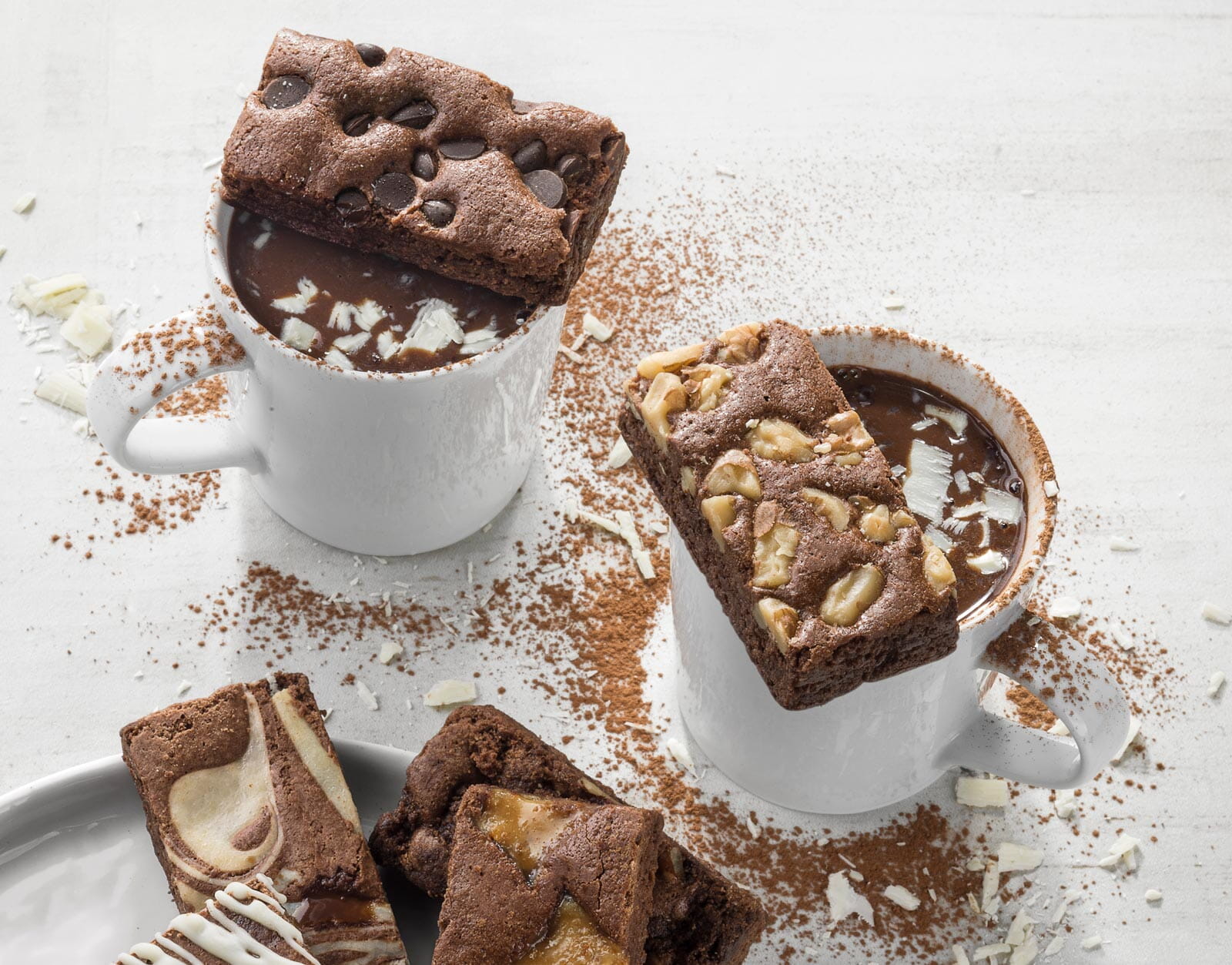 Spread Holiday Cheer
Brownies invoke that heartfelt, home-baked feel of licking batter off the spoon in Mom's kitchen. It's a cozy comfort food with "happiness" and "love" as the main ingredients. If you want to send holiday business gifts to valued clients that speak from the heart, there's no better way.
Brownies are also perfect for sharing — even with large groups! Each Fairytale Brownie is individually wrapped for freshness and portion control, so everyone can just pick their favorite flavor and enjoy. No need to worry about how many hands touched every single treat in the box before you got there.
Cozy comfort feel + easy sharing = Holiday cheer throughout the entire office.
It's part of what the holiday season is all about — spreading joy and sharing brownies! Plus, since you can get a company logo or photo printed right on the brownie box lid, everyone will know exactly who sent the treats and appreciate your generosity.
Trust us, "the company that sent those really good brownies" is exactly the kind of reputation you want to have.
Give Thanks
As the year winds down, we start to recognize and celebrate the year's accomplishments and all the people who made those accomplishments possible. What's a sweeter way to say thank you for being part of our year than with premium, gourmet brownies hand-packed in a gorgeous corporate thank you gift box?
Customer loyalty is a powerful thing. After you go through the effort to attract brand new clients, it makes sense to keep them around. A unique and personalized holiday business gift of thanks reminds your professional associates that you care about them and appreciate all their hard work.
Besides, maybe they'll send you a thank you gift of brownies in return. That's the kind of never-ending brownie cycle that we all need in our lives.
Build Relationships for the Future
It's never too late to start building a better relationship with your corporate connections! The holiday season of giving and warm wishes is a perfect chance to start fresh with new client-building practices.
For the corporate partners you work with, for the clients and contacts who send you referrals, and for the staff who work hard all year to make the business a success, they all deserve a treat of delicious brownies.
Sweeten the deal with new prospects or remind longstanding partners of the great perks of working with you. No matter the reason, brownies branded with your logo are always a guaranteed way to make them smile and improve their feelings toward you.
They're going to be showered with different gifts all season long, but with a completely personalized holiday business gift, yours will stand out and be remembered long after the new year.
We Make it Easy for You!
From corporate thank you gifts for referrals to birthday presents for your valued employees, we have an entire line of branded corporate gifts to emblazon with your company logo.
We think holiday business gifting should be easy, so there are no surprises at checkout. All our custom gifts have NO minimums or set-up fees. We deliver worldwide and ship gifts for free to anywhere in the United States.
Got a big order coming up? As always, our customer service team is happy to help! Plus, we have volume discounts and incentives available to reward you for being such a generous gift-giver.
We want to make gift-giving as easy and fun as possible for you. We'll do whatever it takes to make your Fairytale Brownies Experience perfect. And that's a promise!