Every good host knows the key to an unforgettable holiday party is in the details. Anyone can bring people together for free food and drink, but an exceptional host knows that blowing people away takes a few important details done right.
We don't think every detail has to be perfect since that takes the fun out of bringing people together! But we have learned over the years that as long as the desserts are perfect, everything else just falls into place.
So if you're looking to host an incredible holiday party this year, here are our suggestions for easy holiday treat ideas to upgrade everyone's time.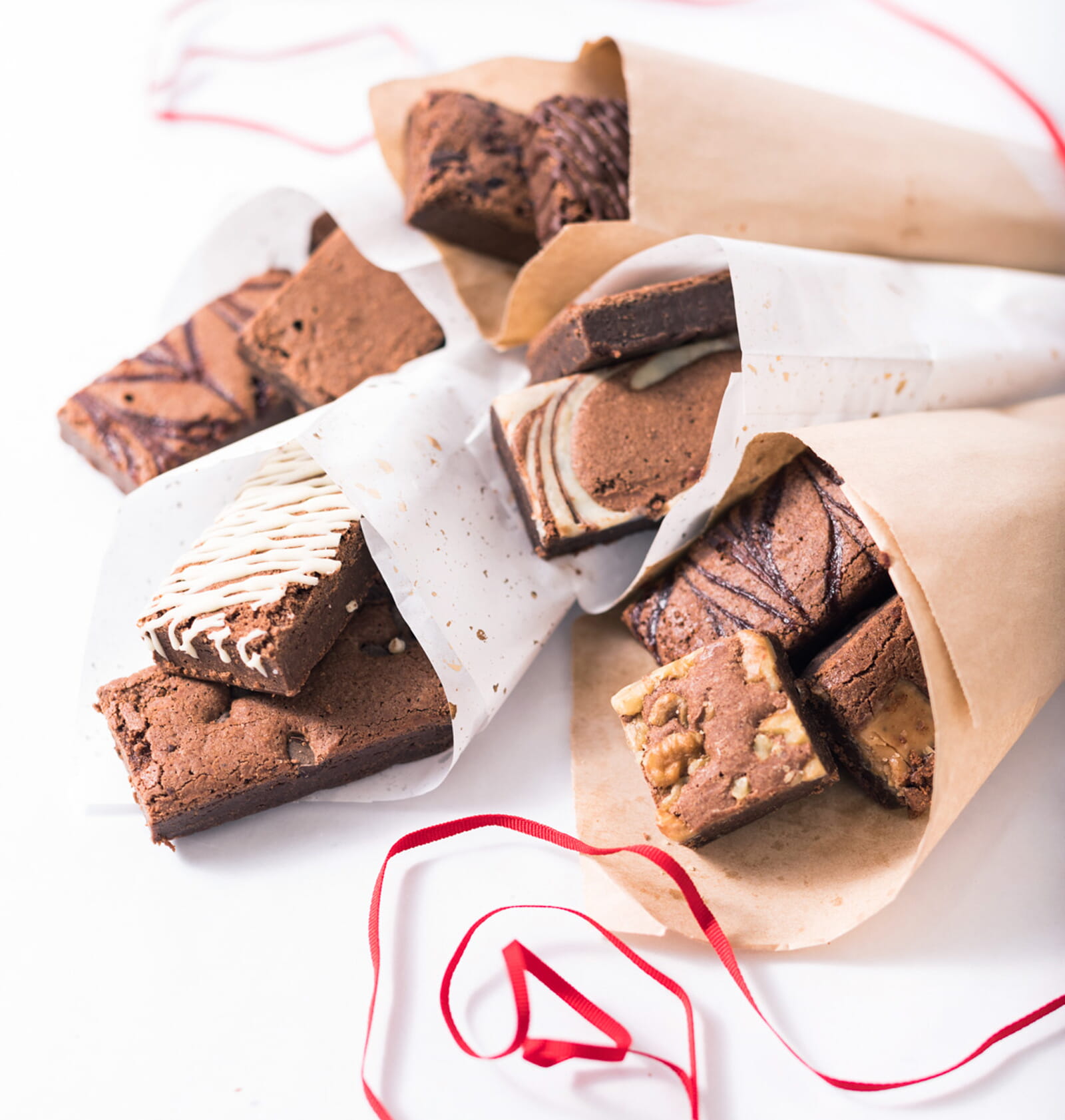 1. Craft Brownie Favors
We're starting with our personal favorite. It's personal, it's portable, and it's a pretty easy holiday treat to put together. For this holiday treat idea, we recommend that you stock up on your favorite Fairytale Sprite and Magic Morsel flavors. Since they're individually wrapped, they're easy for exact portion control without making a mess. (
Buy brownies in bulk
to save!)
Instructions:
Roll rectangles of craft paper into a cone shape. Tape the edges together.

Fill with delicious brownies or another mix of treats.

Make it look extra adorable by tying a bow around or adding a name tag!<

/li>
Hand these favors out as they walk in the door, pile them up on the refreshments table, or use them as place settings. Your guests will love that you were thoughtful enough to give them a way to keep their brownies with them all night.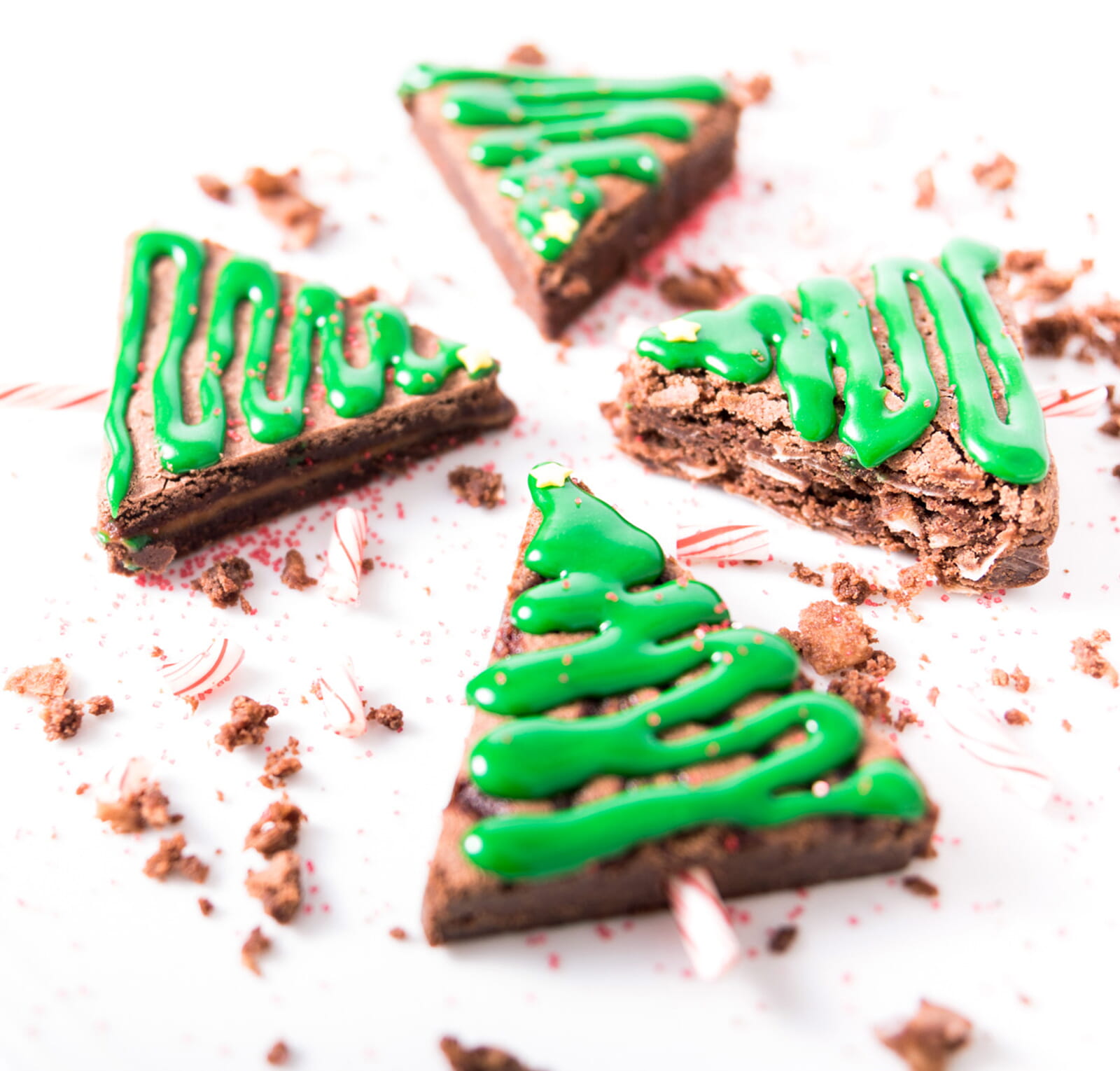 2. Brownie Christmas Trees
Half decoration, half addicting brownie dessert. These adorable holiday treats are easy to make and perfect for a Christmas party! They're bright, fun, and loved by kids and adults alike. Again, we recommend you order a dozen
full-size Fairytale Brownies
to make this holiday treat. Each brownie is perfectly cut into 3" x 3" squares, making it easy to size all your brownie trees the same. Plus, they're the
dense, fudgy type of brownies
so they cut cleanly and don't make a mess!
Instructions:
Make two cuts diagonally from the bottom edge of the brownie to create the tree shape.

Drizzle green frosting from the top of the tree to the base. Decorate with your choice of holiday sprinkles!

Stick a mini candy cane in the bottom of each tree for the trunk.
And you're all done! Beautiful and tasty. If you have a lot of kids at your party, this is an easy holiday treat to turn into an engaging "make your own Christmas tree" activity. Just set out bowls of various sprinkle types and let everyone decorate their own!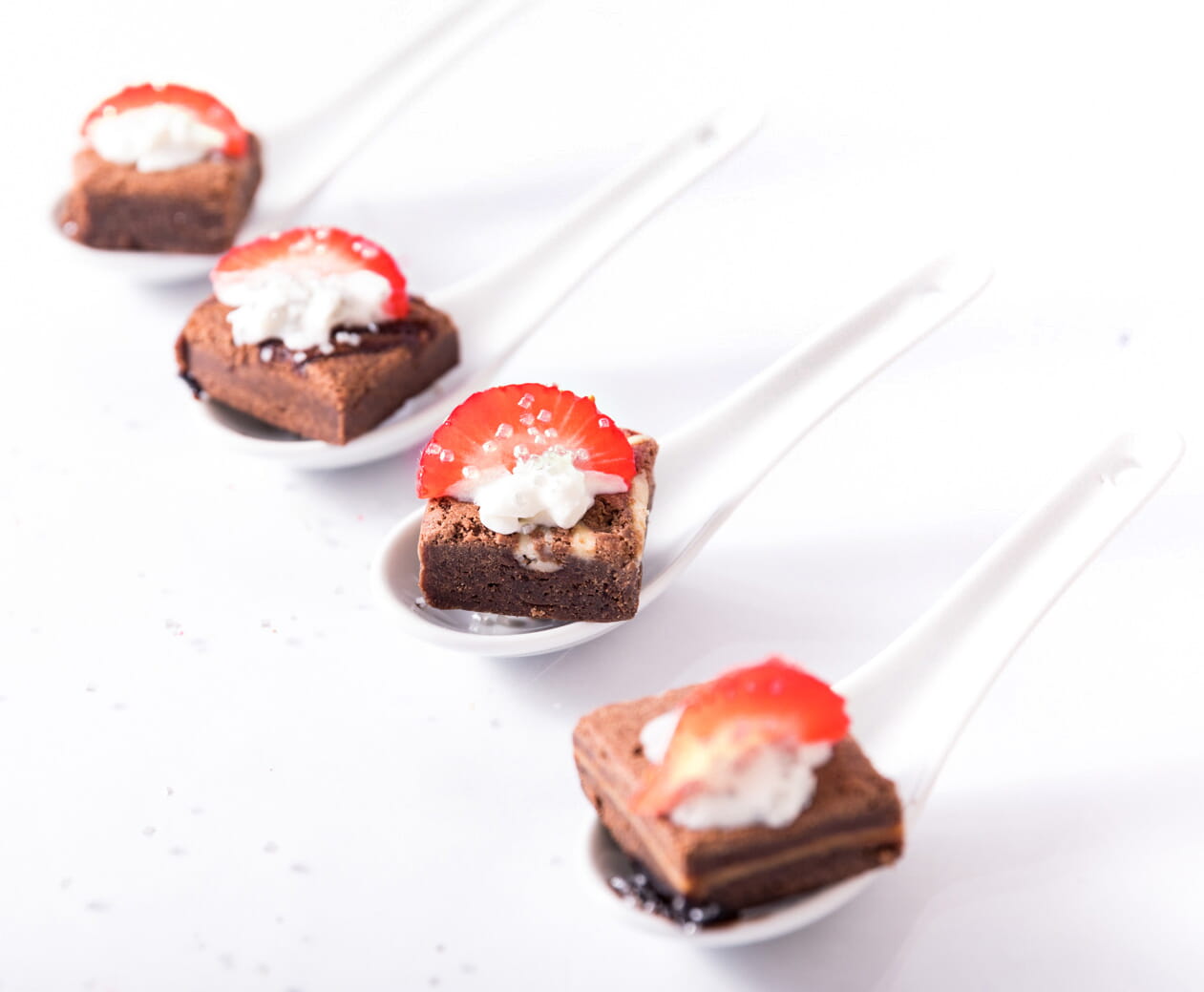 3. Mini Morsel Bites
You know when a dessert is so delicious that you want to eat half of it all by yourself? But then you stop yourself because that would be weird and probably unfair to the rest of the party guests?
With this holiday treat idea, your problem is solved.
Mini brownie bites are an easy holiday treat that come in individual portions, so guests can treat themselves as often as they want.
Our bite-size Magic Morsel brownies are a perfect size.
Drizzle each brownie bite in chocolate sauce. Top with vanilla frosting.

Add in your favorite sliced fruit for garnish.
Voila! The perfect individual holiday dessert. It's the easiest one on the list!
Again, this one is easy to turn into a "make your own brownie bite" activity. Order a party-sized box of 48 Magic Morsels, which includes an assortment of six unique brownie flavors. Set out a variety of topping options and then everyone can create their own mini brownie bite of dreams.
Operation Perfect Holiday Party: Success!
There you have it! Beautiful and easy holiday treats guaranteed to make any of your winter parties a success.
Of course, you could pull off the perfect party just as easily by using a gorgeous and stunning gift tower of chocolate treats as your table centerpiece and calling it a day. We support that decision too. But if you feel like getting crafty, these are our favorite holiday treat ideas that are easy to put together.
Let us know which ones you make and how they turn out! Tag us on Facebook and Instagram. We can't wait to hear from you!
Hungry for more easy treats to make at home? We have some awesome Thanksgiving dessert ideas and easy Halloween treat ideas — and they all involve brownies, of course!