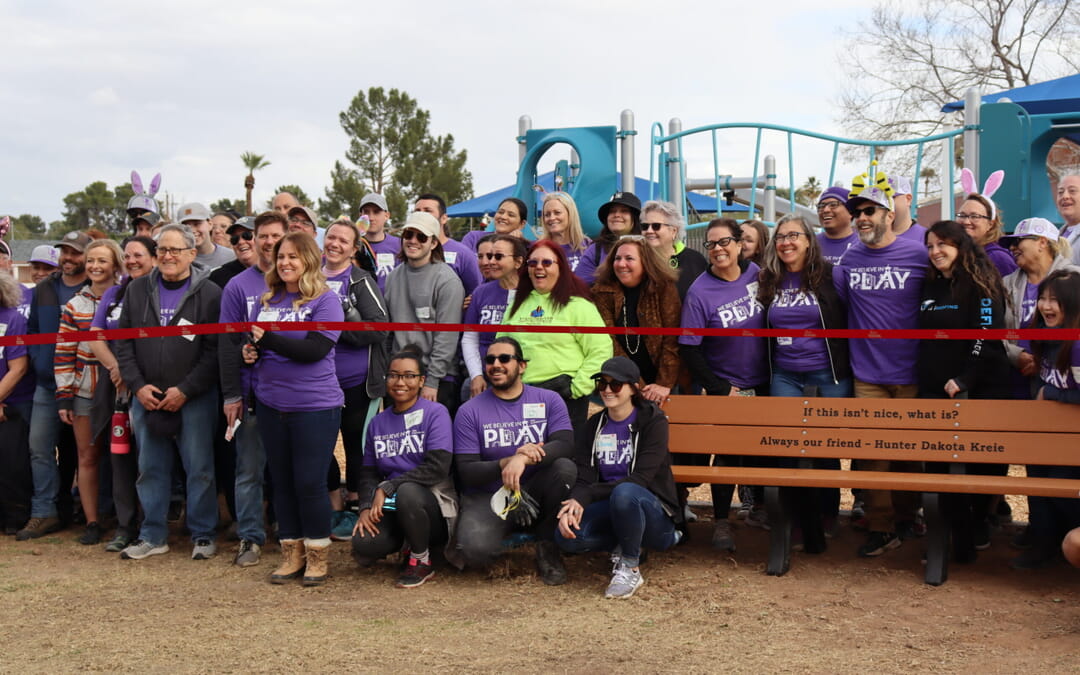 We set a goal to build a playground in celebration of 30 years in business and on Feb. 23, 2023, we achieved it. Today, the children at Loma Linda School in Phoenix are playing on their new, kid-designed playground built by 150 volunteers from the community including team members from Fairytale Brownies and led by our nonprofit partner KABOOM!.
"The playground is such a positive experience for the kids," said Dr. Amy Burgess, principal of Loma Linda School. "They are loving it."
The students presented creative ideas for their dream playground during a design day last December and the finished playground is inspired by those drawings. Two of their requests were a zip line and a spinning component. Burgess said there is a line to play on these components every day.
"There's lots of laughter and lots of fun," she said.
The ABC's of a Typical Build Day
What happens at a playground build? Although every build has a different personality, the "skeleton" is basically the same. Volunteers are divided into teams and are led by fearless captains wearing orange vests, silly headbands, and hand-drawn signs.
Some teams might build parts of the main playground structure like a climbing wall, slide, or zip line.
While those teams assemble playground pieces, supporting teams mix cement and spread mulch around the footprint of the playspace as the project progresses.
Other teams work on side projects. In Loma Linda's case, projects included an outdoor classroom, a gaga ball pit, and EIGHT painting projects.
As a special treat, individual Fairytale Brownies were available to snack on for all of the volunteers.
The playground is usually finished by around 2:30 p.m. and ours was right on time. A ribbon cutting ceremony, a group photo, and lots of "what a great time being on your team" talk ends the day.
There's something about volunteering to work a KABOOM! build. Yes, work IS involved and you WILL be exhausted and a little sore when you're finished. But knowing you brought joy to some children with that playground brings you so much happiness that you want to volunteer all over again!
A Special Dedication
During the planning of the playground build, a dear friend and co-worker passed away. He always was a big part of our KABOOM! builds and events so we dedicated this one to Hunter. A quote by his favorite author is printed on the bench near the structure.
By the Numbers
9,120 lbs. of concrete mixed… by hand!
2,500 square ft: Volunteers built a play structure featuring 13 innovative play elements
696 Fairytale Brownies Treats consumed
80 cubic yards of engineered wood fiber safety surfacing shoveled and moved
8 painting projects completed to beautify campus and provide additional playful elements
New Outdoor Classroom constructed
New Gaga Ball Pit built
Although the Loma Linda playground is the third project that Fairytale Brownies has fully funded with help of our customers and other sponsors, we've assisted with other builds across the country since our partnership with KABOOM! began in 2001. The most recent Fairytale-sponsored build prior to this one was in 2017. Since 2001, together with our Fairytale family we've raised more than $600,000, worked countless volunteer hours, and donated tons of brownies.
Help Give the Gift of Play
The fundraising for KABOOM! doesn't stop with this build. We match every dollar our customers donate, up to $10,000 each year. Shop now and give at checkout.