Once upon a time, two kindergarteners met on the playground. They didn't know it then, but their friendship would last a lifetime!
You might already be familiar with this story about how our founders, David and Eileen, met. They were fast friends from that very first moment on the kindergarten playground, and that friendship stuck through high school and college. They'd always talked about starting a business together, and in 1992, that dream came true!
This year marks our 30th anniversary, and we couldn't be more excited. We wanted to celebrate in a BIG way – and that means building another playground with our friends at KABOOM!
We're raising funds for our next playground, and you can help! 
The Gift of Play with KABOOM!
For kids, playtime is more than just fun. It's a time to be social, creative, and physically active!
Unfortunately, not all kids have safe, fun places to run around and enjoy their childhood. Since 2001, we've partnered with the national nonprofit KABOOM! to help their incredible work building exciting playspaces for kids across the country. 
At the start of each playground build, KABOOM! works with the kids and adults in the community to design and plan the playground of their dreams. Using art and ideas from the kids themselves, KABOOM! planners design a playground to make those dreams a reality.
After that, it's time to build! During a KABOOM! playground build, dozens of volunteers band together to build a playground – in a single day! It's a rewarding, exhilarating experience, especially when you get to see the kids enjoying their playground for the first time.
Fairytale Brownies and KABOOM!
Giving back to the community means the world to us. Our partnership with KABOOM! is near and dear to our hearts, especially since our founders met on a playground. Fairytale Brownies wouldn't exist without playtime, so we give back and share the love with KABOOM! every time we can!
During our time partnered with KABOOM!, we've donated over $500,000, worked countless volunteer hours, and donated lots of brownies. With your help, we've contributed to several Phoenix-area playgrounds and assisted with builds across the country.
We've been the main sponsor on two playground builds so far, in 2011 and 2017. See for yourself what one of these playground builds looks like!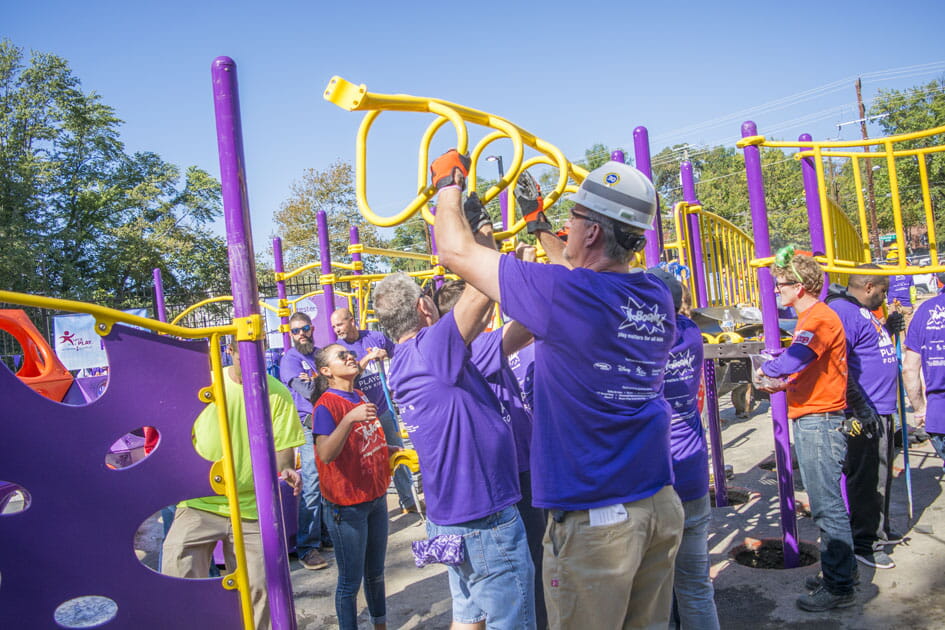 Let's Build Together!
Right now, we're raising funds to build a playground in Spring 2023! There are two ways you can help us meet our goal of raising the needed $140,000+.
Contribute to KABOOM! during checkout 
Give the gift of brownies – and the gift of play! Every donation makes a big difference, no matter the amount.
We'll match every dollar our customers donate, up to $10,000 a year.
Become a Featured Sponsor
Let's make the world a sweeter place! Become one of our featured sponsors and help us bring the gift of play to all kids. Each and every contribution brings us one step closer to making this dream a reality. 
As a national nonprofit, KABOOM! is a 501(c)3 tax-exempt organization. Your donation is tax-deductible, and a receipt will be provided to you upon successful completion of your donation.
If you have any questions, please contact Alyssa Andrews at 602.489.5140 or alyssa@brownies.com. Thank you for helping us make the world a sweeter place!