Is it just us or is the decision between trick or treat the easiest choice of all time? Especially if we're talking ooey gooey, fudgy brownie treats themed for Halloween. There's no competition, even for the biggest pranksters.
We know that this is the time of year where you want to rush out and stock up on everything from sour candy to chocolate bars, but we're here to tell you there's a better way to enjoy Halloween. This will even beat the houses that hand out king-size candy bars. Bet you'll never guess what it is!
You guessed brownies, didn't you? We're not very good at hiding our obsession.
Putting our complete bias to the side, we really think these easy Halloween treat ideas will change your Halloween from a sweet holiday to a full-blown party.
Check out just some of the fast and fun ways you can transform your brownie treats to make this Halloween the best one yet.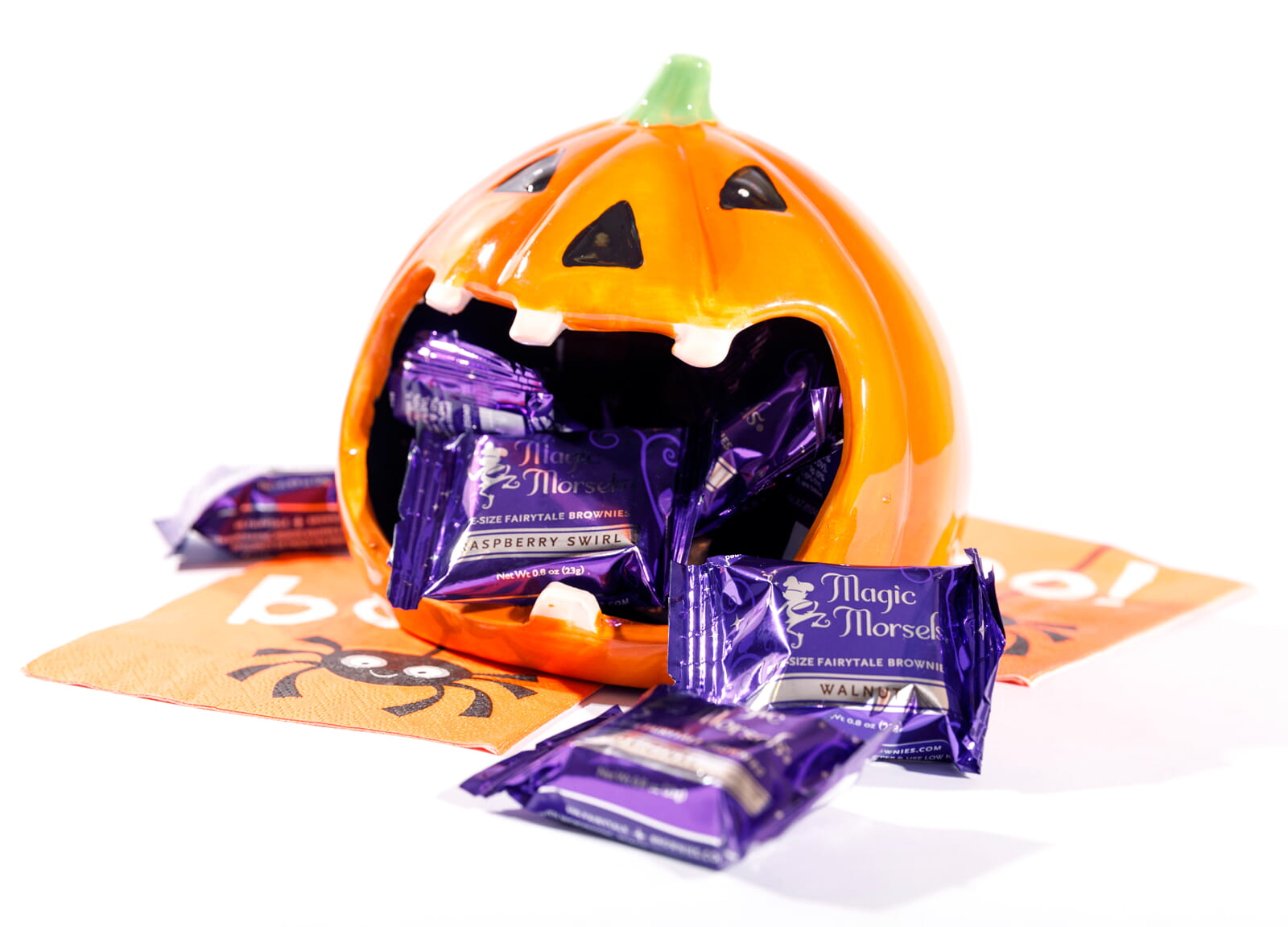 1. Ditch the Candy for Magic Morsels
This one is the quickest win for everyone. In your centerpieces, when you're handing out candy to the neighborhood or when you're bringing candy bowls to the office — just switch out the candy for Magic Morsels or Fairytale Sprites.
They're the perfect size for a quick snack and a more exclusive treat than the same candy you can find at a gas station. Trust us, people will invite you to every Halloween party after you bring a bowl full of brownies.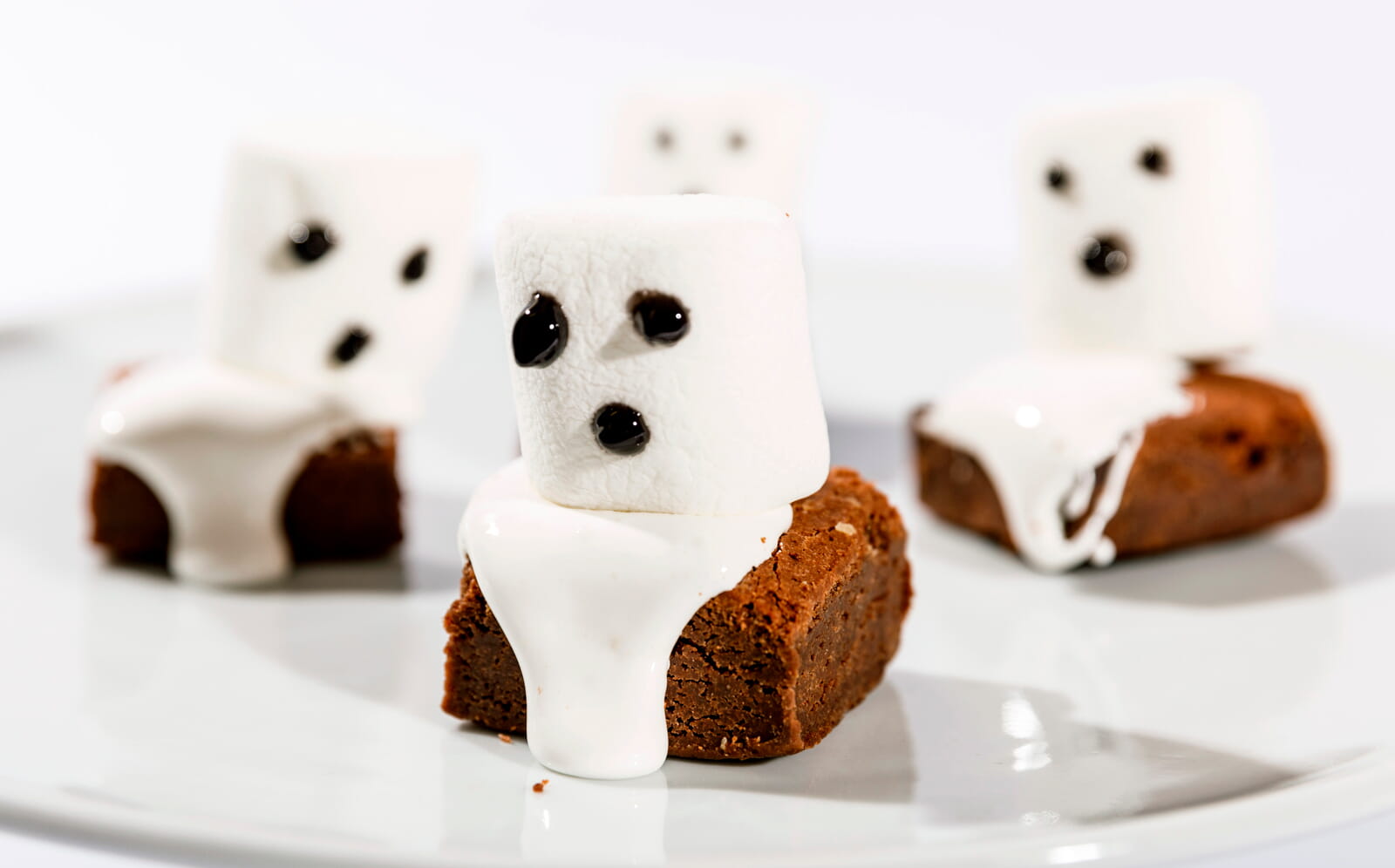 2. Marshmallow Ghost Brownies
If you're feeling crafty, this is a great easy Halloween treat to make with young Halloween enthusiasts! Simple, fast, and super yummy.
All it takes is a few Magic Morsels, some regular size marshmallows, white chocolate, and black icing.
Just cover any Magic Morsel with white chocolate, stick the marshmallow on top so it's standing tall, add eyes and a mouth with the black icing. Voila! You have a simple, delicious, seriously festive Halloween party treat!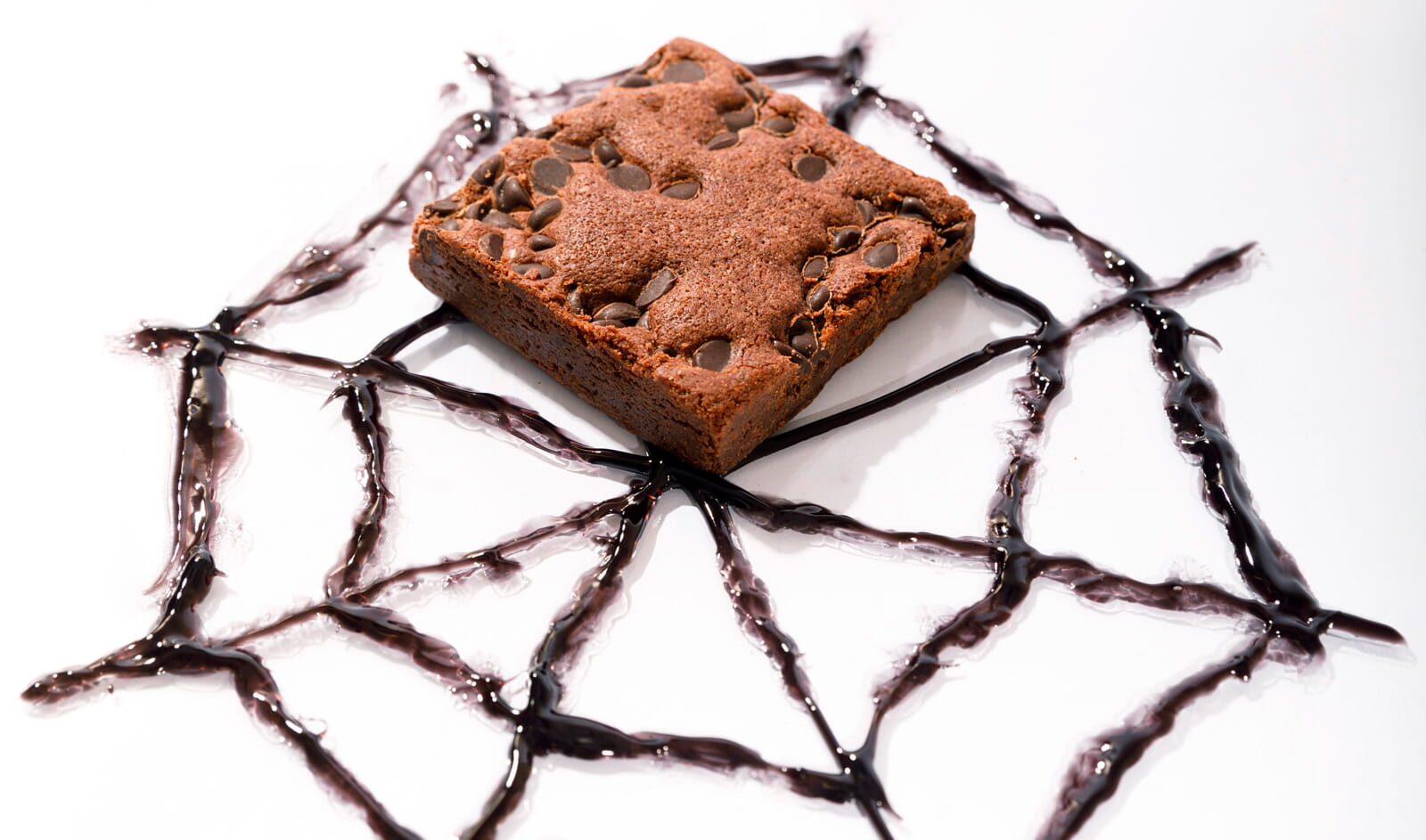 3. Chocolate Spider Web
This one is for those of you who love to hang out at home with a small group of your favorite people. Maybe you have a Halloween-themed dinner or maybe it's just a movie night and you need an easy Halloween treat for dessert.
All you need to impress those around you is get a plate, draw a spooky spider web using black icing, then place your favorite Fairytale Brownies treat right in the middle. People will think you starred on an episode of Top Chef and we definitely won't tell them otherwise.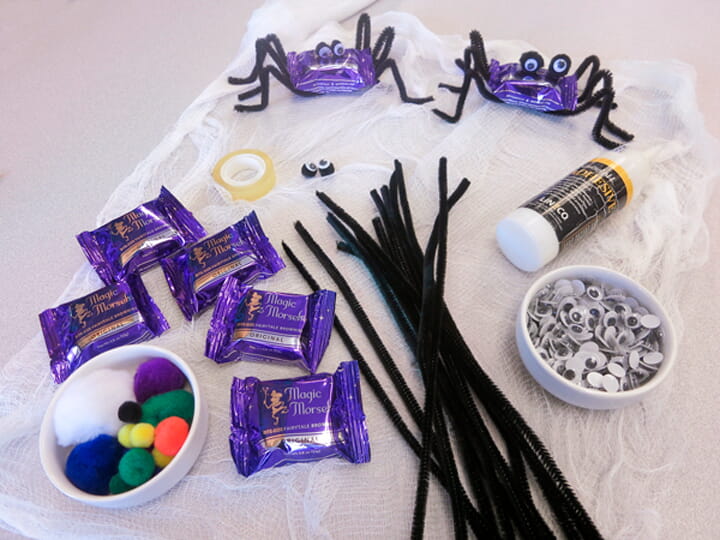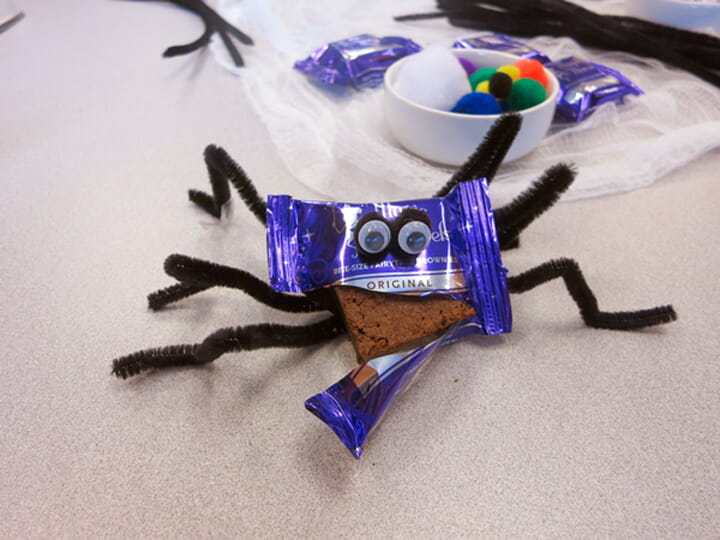 4. Bite-Size Brownie Spiders
This Halloween treat is a bit more involved than the others, but way cool and worth it in the end! It's still a fairly simple DIY project that doesn't require any artistic talent. Just some basic craft supplies.
Here's what you'll need:
Bite-size Magic Morsels (get a variety

or

buy in bulk)

Black pipe cleaners

Googly eyes

Tiny black pom-poms

Double-sided tape and regular tape

Glue
Step 1: Create the Spider's Legs
Take 3 pipe cleaners, spread them like a star then tape them to the back of the Magic Morsel. Bend the pipe cleaners into a zig-zag to create "knees."
Step 2: Create the Spider's Eyes
Glue a googly eye to a pom-pom to create an eye. You will need two for each spider!
Then cut a piece of double-sided tape, place it on top of the Magic Morsel, then attach two eyeballs onto the tape.
And that's it! Just like that, you have an easy Halloween treat to add to the party snack table, at place settings, in goodie bags, or even in your mouth.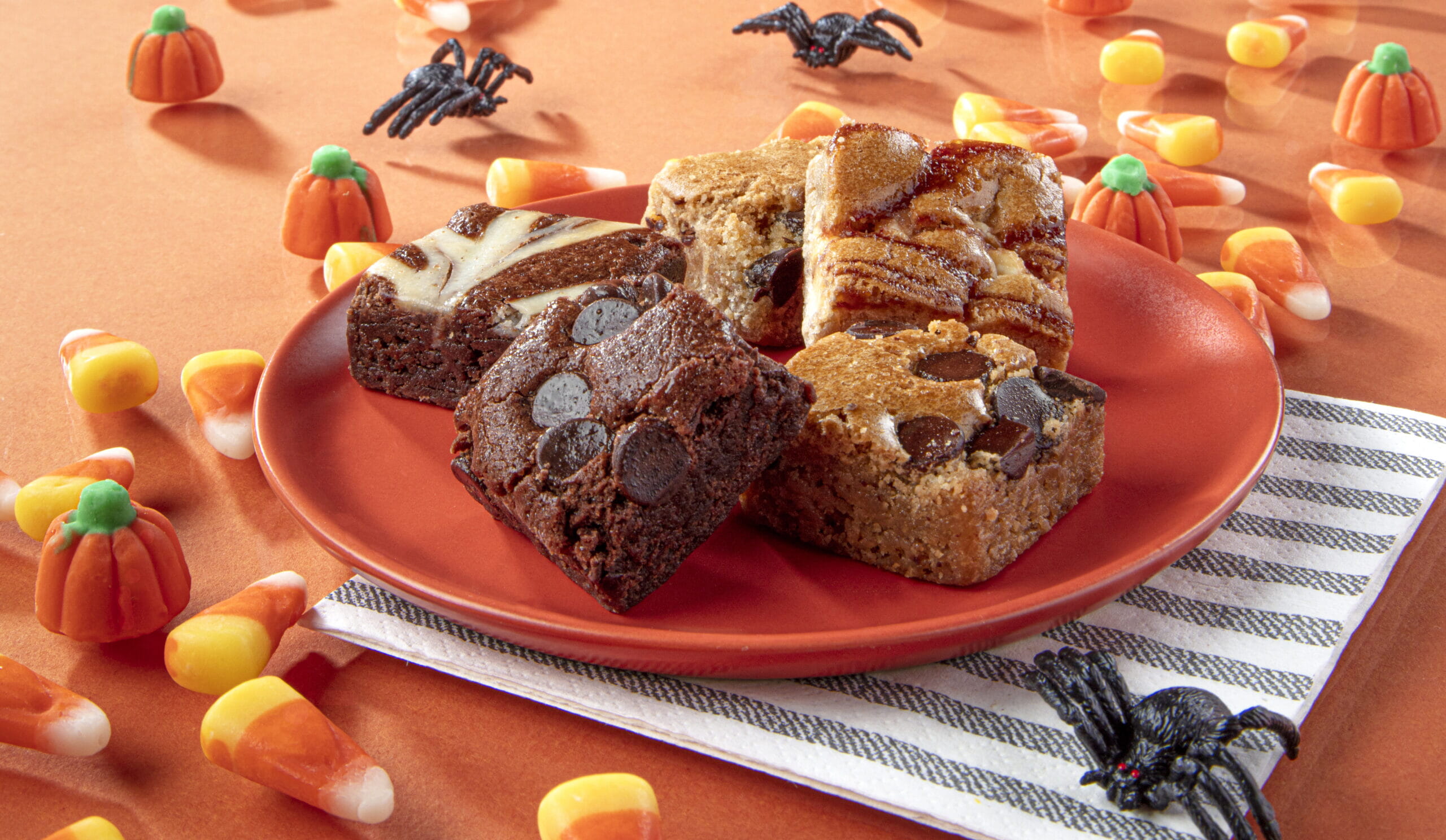 Effortless & Easy Halloween Treats
Try these out or create your own and share them on Instagram! We want to see how creative you get!
Putting in the time to bake or craft a cool Halloween treat for your friends and family is an awesome way to embrace your creative side and get into the Halloween spirit. We're all for it!
But sometimes the easiest way to treat your Halloween party guests is by letting someone else do the work. Then you can focus on setting up the decorations, making the actual meal, or just partying and catching up with friends.
So we're here for you there, too. If you want to order easy Halloween treats for your party that taste so good they'll turn your guests into brownie zombies, take a peek at our Halloween gifts. Not only are they packed with irresistible treats, but they're also wrapped in frightfully adorable Halloween-themed packaging.
No matter how you like to celebrate Halloween, we think you can be more creative than resorting to the age-old candy bar. Make it fun and it'll be a Halloween to remember forever!
Now, how about some Thanksgiving dessert ideas or easy holiday treats?