Up for some Fairytale trivia? To celebrate 28 years of brownie magic, we've put together 28 fun, weird, and surprising fun facts about Fairytale Brownies.
Some you might already know, but we bet many of these tantalizing tidbits will come as a surprise!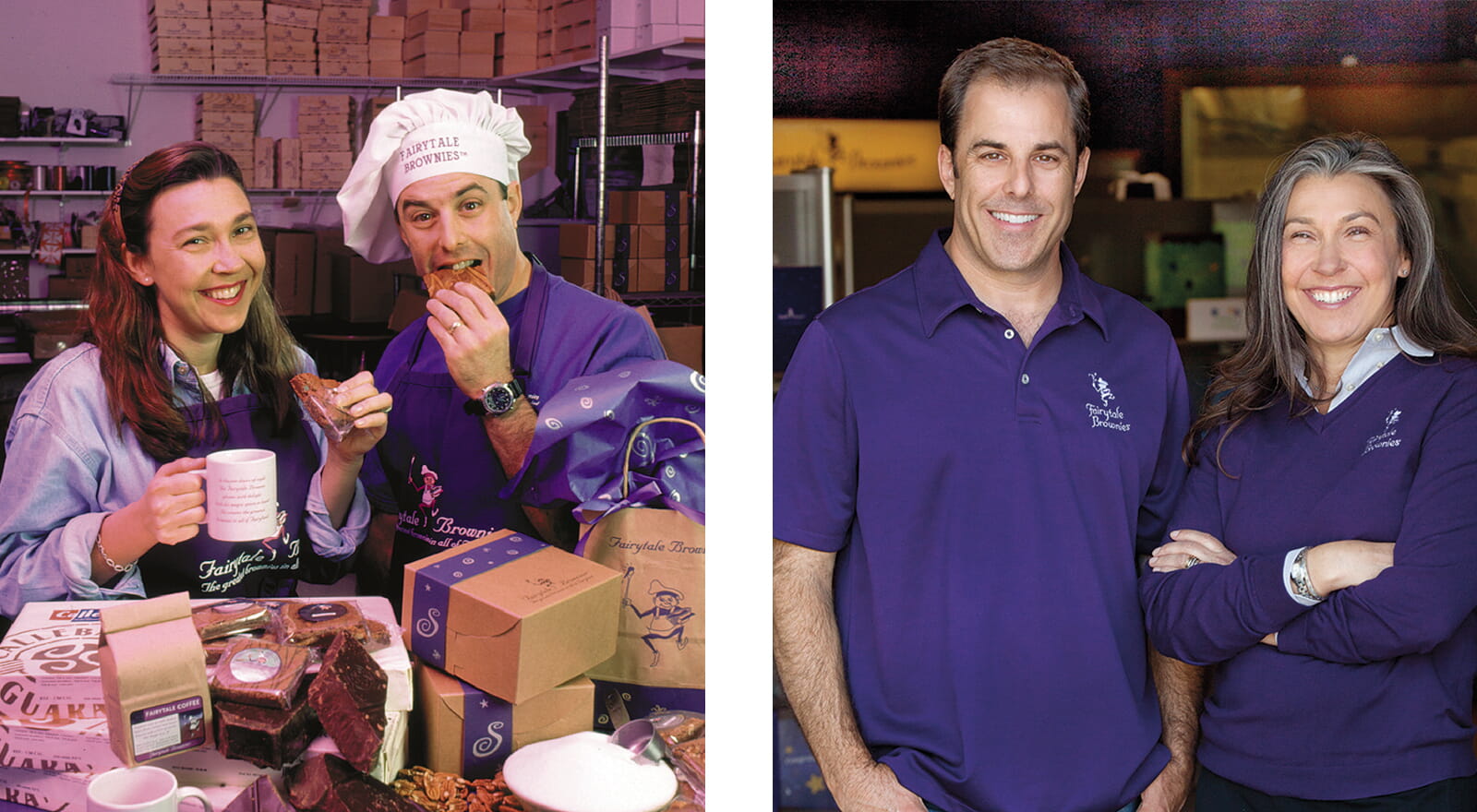 Fairytale Fun-Oh-One
Our founders, David and Eileen, have been best friends since kindergarten!

They met on the school playground in 1971.

Our award-winning brownie recipe actually belongs to David's mom.

Mom retired from baking brownies when we started the business. According to her, Fairytale Brownies taste even better because we use Belgian chocolate.

We owe a lot to parents, friends, and loved ones for those early years! Eileen's husband (boyfriend at the time) was our first baker. A trio of moms, who were in charge of wrapping brownies by hand, called themselves the Fairytale "wrap group." Fairytale Brownies even started off in a friend's catering kitchen! Many a band member in Tempe helped us with our start in the early '90s.
In the early days, we sold brownies one-by-one at street fairs, farmers' markets, and coffee shops.

When winter visitors started asking us to ship brownies to them back home, we introduced our first "catalog" — a one-page photocopied order form.

The company was originally going to be called "My Mom's Brownies."

But when we looked up the definition of a brownie, we discovered it's also the name for a good-natured elf in Celtic folklore. "Fairytale Brownies" fit the elf theme and made for a good pun, and our name was born!

We chose purple on a whim when we printed our very first brownie labels.

The printer asked what color and we decided on the spot. Now we have a trademark for the color purple for selling brownies.

In 1995, we acquired the brownies.com URL.

At the time, we saw it as a kind of consolation prize since what we really wanted was 1-800-BROWNIES. Today, we own over 200 URLs that all point to brownies.com.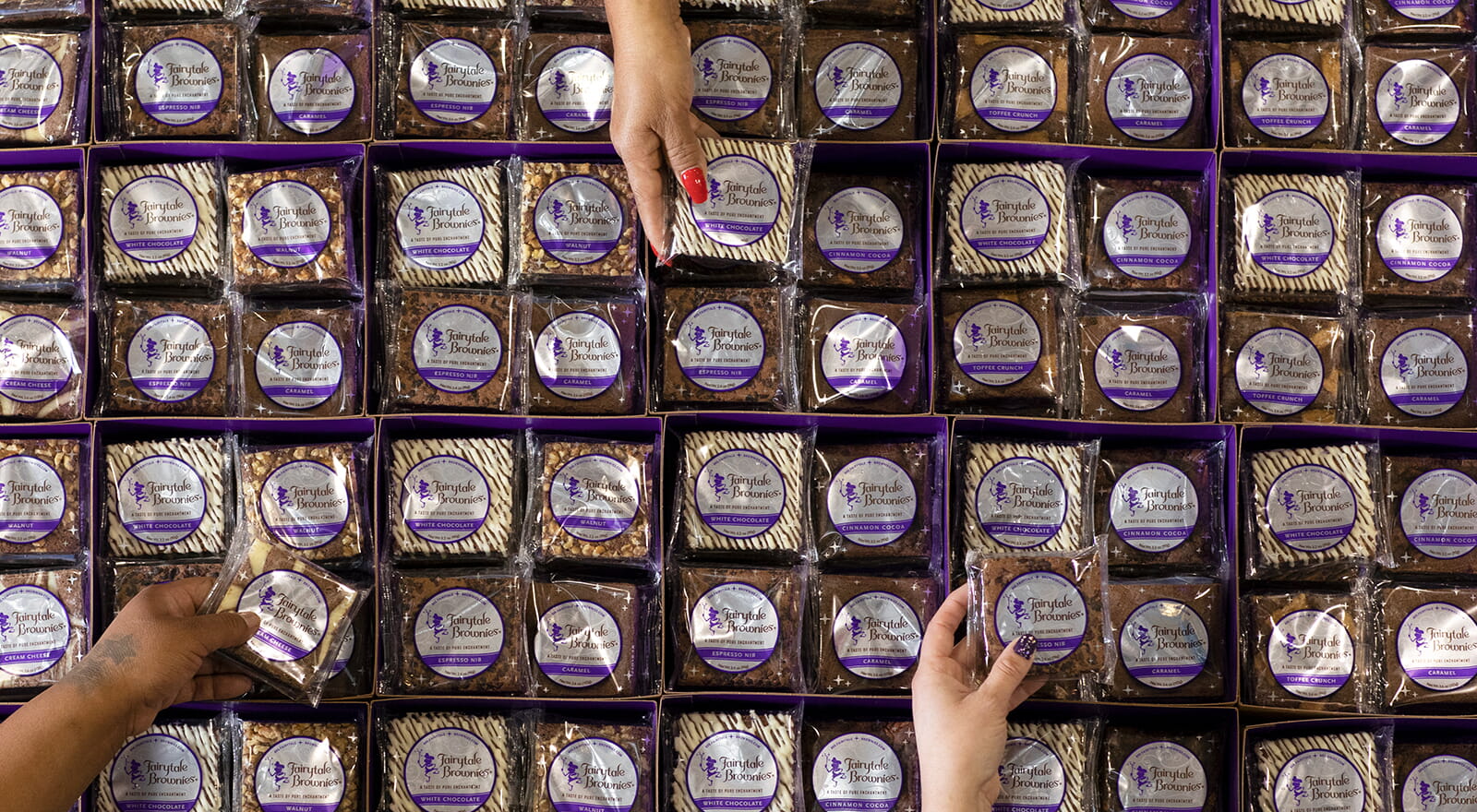 Baking by the Numbers
We were cracking over 600 eggs a day BY HAND

before we started purchasing pre-cracked eggs.

In 2019, we baked through 26.5 tons of chocolate.

That's more than the weight of 8 large SUVs!

We're brownie millionaires!

In 2019, we baked a grand total of 5,179,093 individually wrapped Brownies, Sprites, and Morsels.

Fifty-four percent of all gifts are shipped in December.

We send out more brownies in December than in the rest of the year combined.

For most of the year, we have a full-time workforce of 45.

During the holidays, our season workforce approaches 200.

Currently, our record for packages shipped in a single day is 12,752.

On our busiest day in December, we ship more packages than an entire month during the summer.
Flavor Fantastic
The original Fairytale Brownies flavor lineup included

Original, Walnut, Chocolate Chip, Peanut Butter made with Reese's peanut butter cups, Mint Chocolate with Ghirardelli chocolate chips, and Pecan.

Over the years, we've retired a few flavors:

Amaretto Brownie, Coconut Brownie, Peanut Butter Brownie, and Peanut Butter Cookie.

We've dabbled in TONS of different treats and extras over the last 28 years, including

cashews, cocoa, locally roasted coffee, loose leaf tea, caramels, jelly beans, chocolate covered espresso beans (called Wish Beans), chocolate covered Magic Morsels (called Fairytale Truffles) and dipping sauces in chocolate and caramel. For a time, you could even order a stuffed bear or bunny!

We introduced

Fairytale Cookies

in 2010

with flavors based on our most popular brownies. We wanted to be creative with ingredients we already had in the kitchen, leading to flavors like Toffee Chocolate Chip, Caramel Pecan, and Coconut Walnut.

Fairytale Blondies

(originally known as Fairytale Bars) came onto the scene in 2012

as a special way to celebrate 20 years of business.

Pure peppermint extract is notoriously strong.

We can't bake any other flavors alongside our Mint Chocolate Brownie or Mint Chocolate Cookie, or else the mint flavor will seep into the other treats. In fact, peppermint extract is so concentrated it takes us an entire year to go through a single 25lb canister.

When we say, "The best ingredients sourced from around the world," we mean it.

We import Callebaut Belgian dark chocolate all the way from Belgium—and we've been using it since day 1!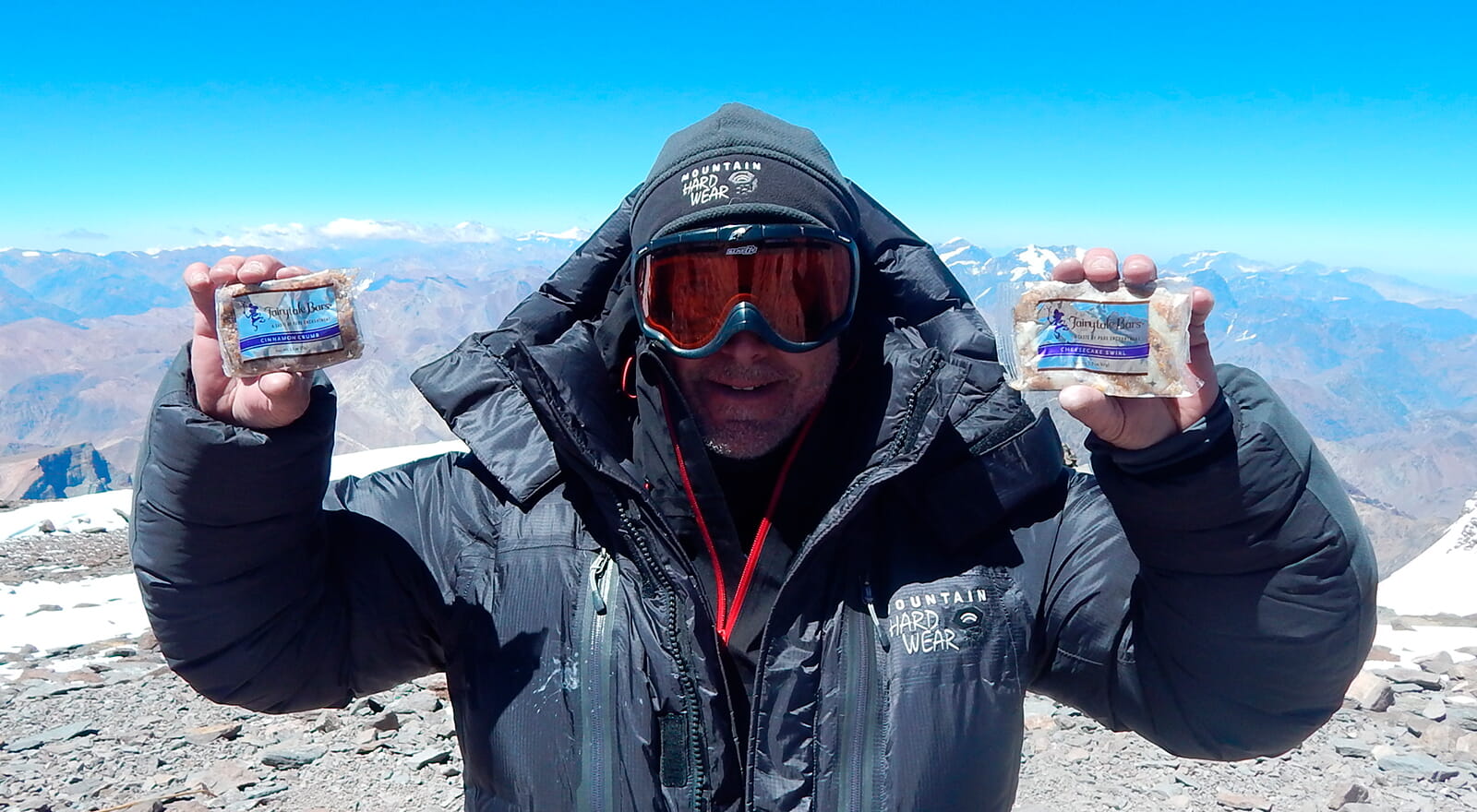 Assorted Brownie Bits
We're Arizona locals through and through.

Not only was Fairytale Brownies founded in Arizona, but both our founders were born and raised in AZ, too. Our headquarters have moved around between Scottsdale, Phoenix, and Chandler, but we've always been based locally.

In 28 years, we've never named the cute little sprite in our logo.

We just call him "the brownie guy."

Although we don't use it much anymore, we created an adorable fairytale jingle for our brownie guy.

In the wee hours of night,
The Fairytale Brownie gleams with delight.
With his magic spoon in hand,
He creates the greatest brownies in all of Fairyland!

Fairytale Brownies have been included in the gift bags at the Rocky Mountain Emmy Awards and in Hollywood.

We have some celebrity fans… but can't divulge who!

Giving back has always been near and dear to our hearts.

Since 2001, we've donated $475,000 and sponsored two playground builds with our nonprofit partner, KABOOM!. Eileen even did a playground build with Michelle Obama in Washington DC!

We have a Quality Control team

that taste tests nearly every batch of treats. That's right—we get paid to eat brownies.

Fairytale Brownies has been featured on The Food Network three times. Once on "Food Finds" in 2008 and twice on "Unwrapped" in 2009 and 2011. We've also appeared on QVC to represent Arizona in a series called 50 in 50. You can

watch clips on our YouTube channel!
Fairytale Brownies have flown on the Concorde,

gone scuba diving underwater, climbed to the top of Mt. Kilimanjaro, and been delivered via USPS to the Mt. Everest base camp.
And there we have it—fun factoids to share with your friends and family on trivia night. Which one surprised you most?
It's been a long 28 years, filled with Fairytale memories, flavors, and fun! We can't wait to see what the next 28 years have in store.