When we counted up all the things we've been able to accomplish over the last 25 years — millions of brownies, thousands of happy messages from customers, hundreds of exceptional employees —what we valued most was the number of memories we've made. They're countless.
Some are small memories, others are big. Some came from back at the very beginning and some happened just last year. Each of them is important to our story.
If you're into nostalgia and playful memories, here are some of our favorites through the years.
We Had A Wrap Group
Back in the very beginning, before the highly efficient team of expert bakers and gift packers, we were a very small team.
To keep up with the orders, our founders had to enlist their moms to help out. One of the jobs the moms did was wrap every gift basket, using scissors to make every ribbon curl and all! So, naturally, they dubbed themselves the Fairytale Brownies Wrap Group.
Sadly, their single was never released, but we're certain it could have topped the charts.
Wait, Fax in an Order?
One of the first times we were lucky enough to be written about by Florence Fabricant, the famed food writer for the New York Times, was way back in 1995.
We love everything about the article and definitely point to it as the first time we felt like we actually "made it." Reading it now, we can't help but laugh at the line that says, "Only a credit card and a telephone or fax machine are needed."
Thankfully, we all moved on from the fax machine.
Look, We're On TV!
Back in 2011, we were lucky enough to be featured on an episode of The Food Networks show Unwrapped.
At the time, we were known as a gourmet brownie company, but our chewy cookies were pretty new. When the news came in that they wanted to feature us for our cookies, we were thrilled.
We hosted the film crew as they recorded every step of our cookie-making methods, which is still the same by-hand, from-scratch process we use today! It was one of those days where we all felt insanely proud of the job we were doing to spread a little joy in the world.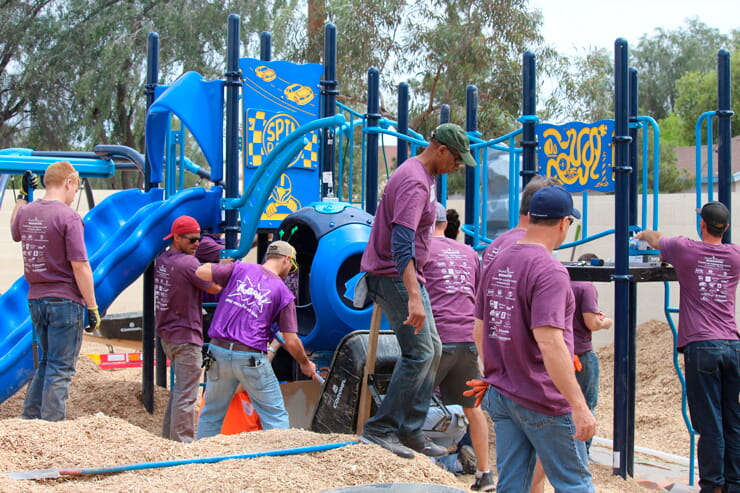 Bakers Become Builders
More than once we've put ourselves to the test. Sure, we can bake incredible brownies, but could we be builders? Turns out, we're good enough with some power tools to build not one, but TWO different playgrounds entirely on our own!
(Confession: we did get in a little practice on the hundreds of volunteer hours we've put in at other playgrounds, so we weren't entirely green).
Each experience was so much fun to bond as a team and create something that would last well past 25 years for our community. Of all the things we've done, building playgrounds with KABOOM! is one of our favorites.